"The TOP 20 EXTRAORDINARY MINDS IN SALES MARKETING & TECHNOLOGY across Europe' were appointed this week in London. The award-winning hotel THE THIEF was appointed as last year's European Travel Marketer by HSMAI Europe in addition to the prize in the Public Relations category during this week's festive ceremony at London's prestigious Jumeirah Carlton Tower.
"The 2014 Top 20 laureates are judged for their recent work based on the following criteria: creativity and innovation cutting edge sales marketing revenue and technology campaigns achievement in challenging situations and sales efforts resulting in significant gains by a panel of senior executives. Needless to say we are immensely proud of the laureates who have proved themselves more than adequately worthy" says Peter O'Connor professor at ESSEC Business School.
"We treat our guests as rock stars and the rock stars as guests. Thank you so much for the honour it is to once more take this prize back to the and my fellow 'thieves'" said Thief Executive Officer Jarle Moen.
Winners were named in six categories including HSMAI European Travel Marketer of the Year. Scroll down for the complete list of winners.
Audience in a festive mood
The exclusive Jumeirah Carlton Tower near Hyde Park served as scene for HSMAI Europe's 5th Annual Revenue Optimisation Conference as well as the awards ceremony taking place in the evening charecterised by entertainment and high spirits with world-class keynote speakers earlier on.
The attendants were treated to an exquisite mix of food drinks and entertainment the latter provided by sing and dance group StarWorkers performing a tremendous 1980s show of numbers well known to most of the audience.
Eventful day two
On the event's day two Wednesday 25 February a number of pre-approved attendants qualified for the CRME and workshop (Certified Revenue Management Executive) as well as two 'ìThink Tanks' on Revenue Management and Innovation and Marketing all held at the Mandarin Oriental Hyde Park offering beautiful surroundings for an energetic day.
The winners
Best in Class Technology – Innovation
Gold: Skyscanner
Honourable mention: Customer Alliance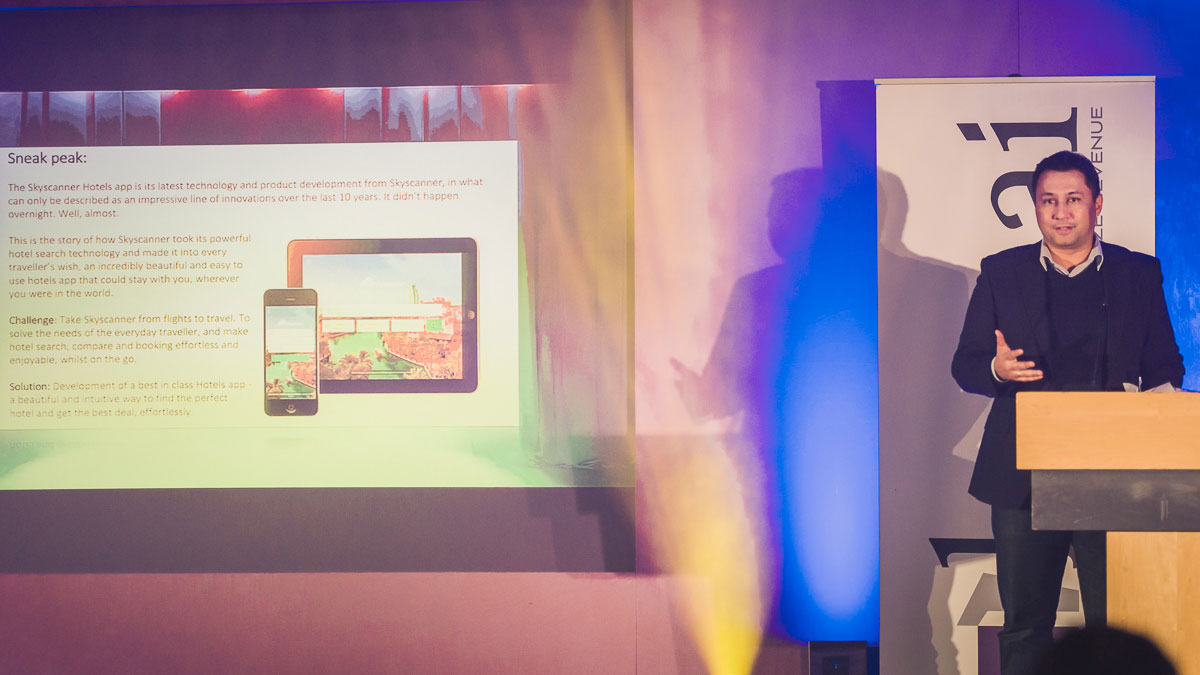 The jury says:
This year's winner in the Best in Class Technology – Skyscanner – demonstrated to the judges the company's commitment to continue to push the boundaries of both technology and customer service. Already a major driver of meta-search traffic Skyscanner risked it all to create a stunning new app that would make it intuitive and easy to search for hotels on its system. Incorporating industry best practice as well as state of the art technology Skyscanner's Hotels app has been successful beyond the company's wildest dreams resulting in a 17% increase in traffic with over 60% returning visitors and primarily 5-star reviews in the app store.
Best in Class Technology – Revenue Management
Gold: Accor
Honourable mention: Louvre Hotels
The jury says:
The winner of our Best in Class Technology – Revenue management one of the world's largest lodging groups has succeeded in developing global revenue management policies and procedures to drive a coordinated approach towards pricing hotels from diverse brands sizes and geographic regions. Few companies have mastered the complexity of optimizing sales RevPAR GOPAR and net profit among such a diverse portfolio comprised of leased hotels fully-owned properties management contracts and franchises in over 100 countries.The winning company has drawn upon specialized technology and knowhow by developing innovative strategic alliances with partners such as Amadeus to drive room sales and Nor1 to maximize ancillary revenue. HSMAI Europe is pleased to announce that the award for Best in Class Revenue Management Technology 2015 goes to – Accor.
Public Relations
Gold: THE THIEF
Honourable mention: Scandic Hotels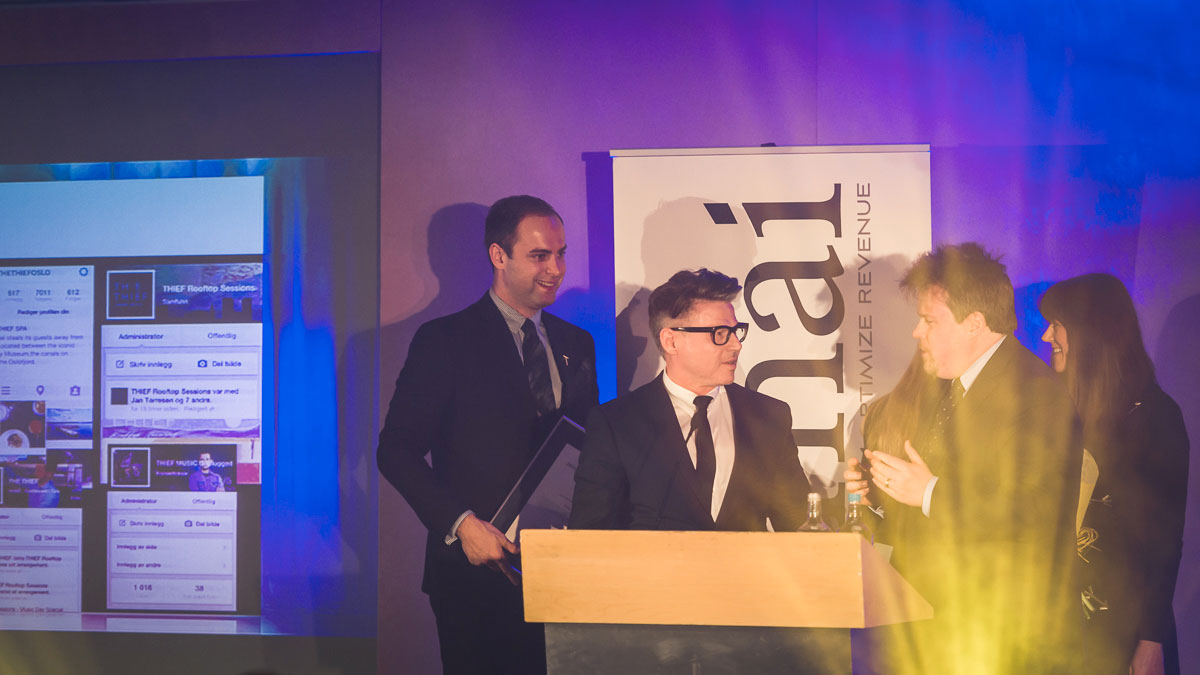 The jury says:
Some of us have the talent to be great storytellers. Like magic they transform big and small events into one amazing story after the other. It may look so easy and naturally but most of it is carefully thought out and planned.

In a world full of tales there are some that truly stand out according to this year's jury. This year's winner is clearly one of them. With an impressive collection of great stories about themselves it has managed to steal the media attention both nationally and internationally over and over again. With limited funds and in a short time. By doing so our obvious winner has built a solid name for themselves through extremely effective PR. An excellent example for the entire industry to follow. This yearÇs gold in the category Public Relations goes to THE THIEF and The Thief Story.
The Digital Winner
Gold: Louvre Hotels
Honourable mention: Comfort Hotels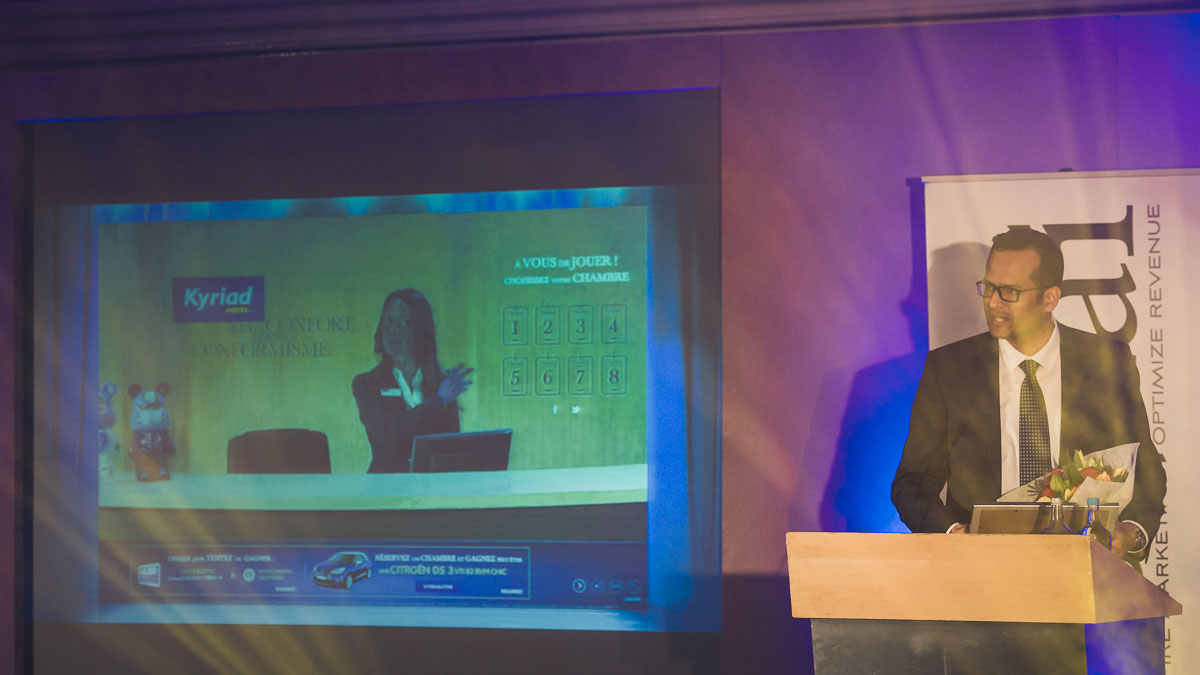 The jury says:
With its highly successful L'Incroyable Hotel Kyriad Louvre Hotel Group has demonstrated its excellence in terms of the conception and implementation of digital marketing. With a highly innovative humour based micro-site game-ification as well as an extensive online media campaign the initiative more than doubled its objectives in key metrics directly resulting in more than 8000 reservations and raising the number of unique visitors and visibility of the brand website substantially.
Social media
Gold: Comfort Hotels
Honourable mention: Scandic Hotels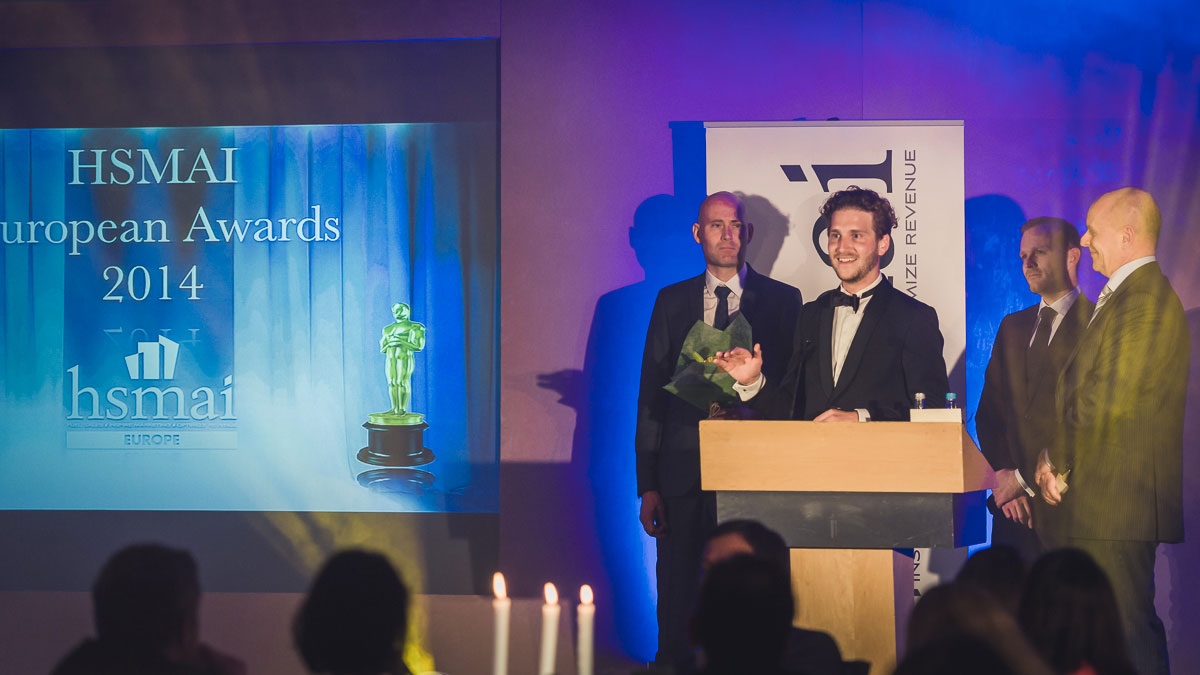 The jury says:
This campaign makes it so easy to make a real difference. One great thought presented in an ingeniously simple way that it actually makes you wonder why no one has thought of this before. One almost begins to believe that it actually is possible to save the world.

With the campaign Dear TripAdvisor the winner in this categorie takes an striking position by encouraging the tourism industry to be a part of the solution instead of being a part of the global climate problem.They ask that sustainability is added as a criteria for rating of hotels.

They have found a message that underpins their own conviction and it is ideally suited for Social Media. This is like David against Goliath but what better way is there to obtain the many followers needed to support this movement than through the social media. By successfully using them the winner has by now managed to get TripAdvisorsÇ attention: the first step in trying to change their behavior. We do hope they succeed!
HSMAI European Travel Marketer of the Year
THE THIEF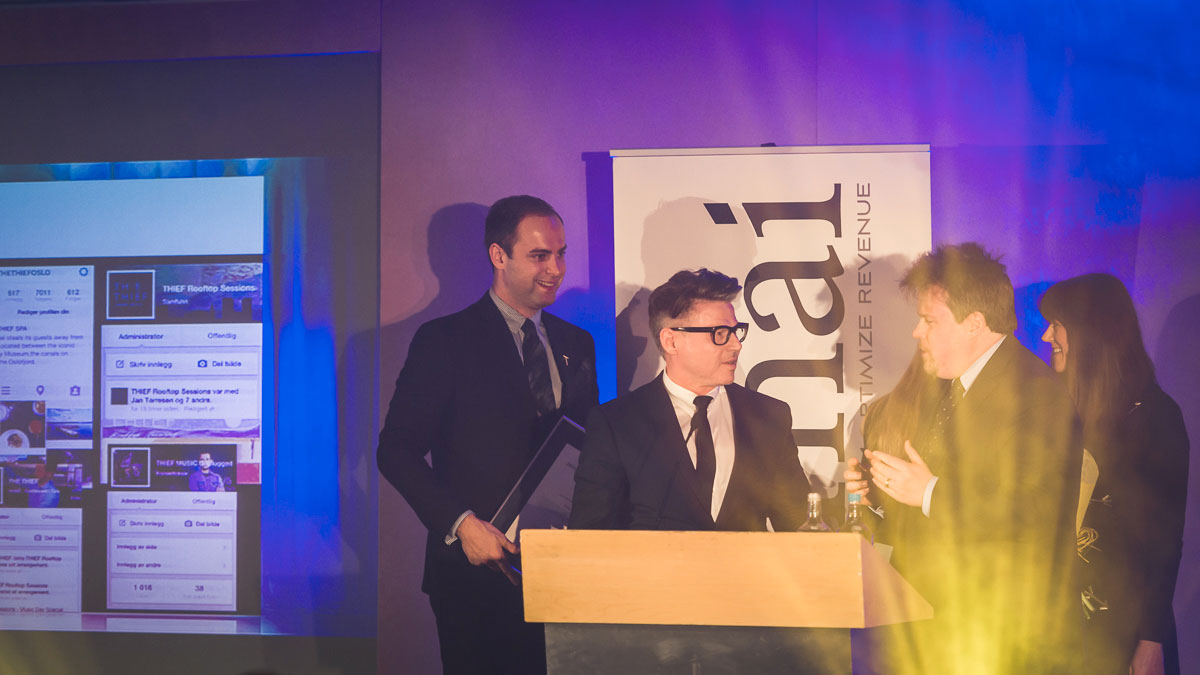 The jury says:
Marketing has changed. The range of the mass media is no longer as it was a only a few years ago. You find the latest news online now. Influencers heroes and stars are self-made and communities find each other around common interests not geography or media companies. An advertiser can no longer push their message out in the media hoping that the phone starts ringing. On the other hand it has never been easier for an advertiser to reach a global audience as today.

The Tourism Marketer of the Year has understood this by being bold enough to use PR and social media to meet their guests where they are on their terms and with the right message at the right time. They showed through their actions how important it is to have a dialogue with your guest. The winner of the title 'ìEuropean Travel Marketer of the Year' should also be praised for their outstanding commitment to the brand they represent. Living the brand is a determining factor.
TOP 20 EXTRAORDINARY MINDS IN SALES MARKETING& TECHNOLOGY across Europe 2014:
Claire Bilby Senior Vice President Sales and Marketing Disneyland Paris
Bastien Blanc VP sales marketing distribution and business development for Russia & CI Interstate Hotels
Puneet Chhatwal Chief Executive Officer Steigenberger Hotel Group
Lennert de Jong Commercial Director citizenM Hotels
Bente Holm Managing Director VisitOSLO
Jan Lundborg VP Revenue Management & Distribution Scandic Hotels
Christopher Michau Vice President Global Partner Group Expedia
Paul Mulcahy Senior Vice President Commercial Mí_venpick
Andre P. Privateer Managing Director EMEA & Asia Hotelrooms.com
Frank Reeves Co-Founder & CEO Avvio
Jakob Riegger Co-Founder and Managing Director TrustYou
Henri Roelings Founder Hsyndicate.org
Torsten Rolke Director Global Revenue & Distribution Worldhotels
AgníÂs Roquefort Senior Vice President Global Revenue Management Accor
Romain Roulleau Senior Vice President E-Commerce Accor
Chinmai Sharma Vice President Revenue and Distribution Louvre Hotels
Riko van Santen Vice President Digital Strategy Loyalty & Distribution Kempinski
Marta Varela Global Director Revenue Management Meliíç Hotels International
Jean-Denis Vaultier Corporate Director of Pricing Product Marketing & Performance iDBUS – SNCF
Arthur Waller Founding Partner PriceMatch
The judges have been:
Peter O'Connor Professor at ESSEC Business School Chairman of the jury
Professor Dr. Bí«rd Tronvoll Professor of marketing at Hedmark University and CTF- Service Research Center at Karlstad University
Hans Poortvliet Managing Director HSMAI Holland
Kerstin Pí_tzsch Director International Sales Robinson Club and leader for the European National Advisory Board in Germany
Michael Nowlis Dean at Center for Corporate and Professional Education Stevens Institute of Technology
Alex Gibson Assistant Head of School Dublin Institute of Technology
Ingunn Hofseth President HSMAI Europe
Top photo: Nine of the Top 20 Extraordinary Minds In Sales Marketing & Technology across Europe present at the HSMAI European Awards in London Tuesday night. Photographers: Gunnar Kopperud/Netta Nyman PhotoWalk/Konferansefotografering
All photos: Gunnar Kopperud/Netta Nyman PhotoWalk/Konferansefotografering